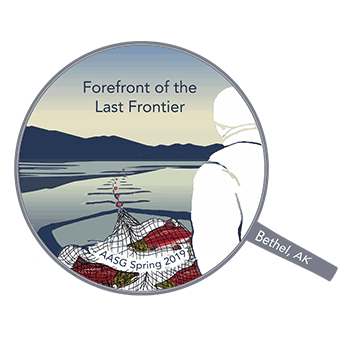 The AASG 2019 Spring Conference will be held April 11-13, 2019 at Bethel Regional High School. The theme of our upcoming Spring conference is "Forefront of the Last Frontier." According to our conference hosts in Bethel, "It's been 6 years since the hub of the Kuskokwim has hosted an AASG conference, and we are happy to welcome the student leaders of Alaska back to Bethel. We seldom get to showcase our region to the rest of AASG so we will take this opportunity to give delegates a genuine experience, here in the Last Frontier. This will include explorations of our subsistence based lifestyle such as fishing and wilderness survival, as well as workshops exposing delegates to the Yupik culture.
This is still an AASG conference after all, so expect the same General Assemblies and leadership development workshops that we all know and love. Anticipate every stomp, clap and cheer to be louder and each snap more united towards a better Alaska. As students of Alaska, we are at the forefront of change and so we welcome you to the Forefront of the Last Frontier."
The six members of the AASG Executive Board (president. vice-president, secretary, treasurer, parliamentarian and public relations officer) are also elected/selected at the Spring Conference.
Descriptions of the offices are located here.
Applications for office are located here.
Updated information on times, housing, etc, will be posted here, on our AASG website, as it becomes available. Aiden Keller is our conference host. Feel free to contact him at aiden_keller@lksd.org.