Thinking of Running For the AASG Executive Board?
Your current AASG Executive Board has put together this video, explaining a little bit about their positions. If running for a position on the AASG Executive Board sounds like something you'd like to do,
go here
to learn more.
2018 Spring Conference Information
The Alaska Association of Student Governments is excited to announce that our Spring Conference 2018 will be held April 26-28 at Tri-Valley High School in Healy.
No stranger to hosting AASG conferences, Tri-Valley hosted conferences in 2013 ("Be the Change"), 2002 ("Great Flames Follow a Tiny Spark"), 1997 ("Under the Same Sun") and even in the years prior to that!
The theme of our Spring Conference is "Winds of Change."
We are looking forward to seeing you in Healy for the AASG conference this spring! In addition to a variety of inspirational speakers and presentations, you can look forward to a huge variety of exciting community explorations and workshops. You will be able to choose from experiences like a guided hike in Denali National Park, a tour of the state's largest coal mine, exploring a 13,000 year old archaeological site, human sized foosball, art workshops led by local artists, drumming, Jazzercise, and many, many more. You will enjoy home cooking and the hospitality that our small town can offer. This should be a fantastic opportunity to network with other student leaders in the state, hone your leadership skills, debate resolutions to help your school, community, and state. Kassandra Mirosh is our conference host. Feel free to contact Kassandra at kassandramirosh@dbsd.org.
Elections planned for this conference include six positions on the AASG executive board. President, vice president and public relations officer are elected by the general assembly. Secretary, treasurer and parliamentarian are selected by an executive board interview committee. Students interested in running can find the application forms here.
REGISTRATION
Registration form is available here.
IMPORTANT DATES
• Registration ($130) runs through Saturday, April 7. There is no "early-bird" registration.
• Late Registration ($150) begins Sunday, April 8 and runs through April 19.
• Travel Scholarships are due by April 12.
• Electronic Eligibility (for grades, etc.) is required by April 19. (All delegates must meet the ASAA eligibility requirements to participate in statewide AASG activities including conferences and Executive Board meetings).
• No refunds will be issued for cancellations after April 15.
• Substitutions after April 15 will require a $20 change fee.
(Note: Conference attendance will be capped at 400)
CONFERENCE DATES
• E-board meeting 4 pm, Wednesday, April 25.
• Registration and "ice-breakers" begin at noon, Thursday, April 26.
• Opening ceremony – 3 pm, Thursday, April 26.
• Closing ceremony – 12:30 pm, Saturday, April 28. (lunch-on-the-go available at 1 pm)
HOUSING
Our host school is busy lining up housing for the conference. A list of local hotels, VRBOs, and B&Bs is available here. For those who can't afford separate housing there will be a limited number of spaces available at the school, some local churches and the Healy Community Center. Please contact Ms Mirosh with any questions or concerns regarding your school's housing needs.
We'll see you there!
Interested in hosting a conference?
Conferences are an exciting opportunity for both the students that attend and the schools that host them.
Past conference hosts Anthony Jensen (Wasilla High), Danielle Lewis (Eagle River High), Elizabeth Bender and Lindsey Glenn (Kodiak High), Barbara Petukh Jackson (Mat-Su Career Tech), and Mara Sheakley-Early (Thunder Mountain High) are available to lend support and guidance in your decision to become a conference host school. Host schools will also have the support of the AASG executive board. Our parent organization, the Alaska School Activities Association, has also agreed to forward-fund a portion of your conference, which will help with many of the up-front costs of the conference.
Please go to the Conference Tools page for more information and the application forms to host an AASG statewide conference.
More on Healy
Situated just 11 miles outside Denali National Park, the town of Healy is often the preferred base for those visiting Denali. The town sits at the mouth of Healy Creek on the Nenana River, just under 80 miles from the city of Fairbanks. Healy was originally developed by the Usibelli Coal Mine as a mining town in 1918. The mine today still supplies over 800,000 tons of coal each year to various entities. For more information on Healy and the surrounding area go to: http://www.alaska101.com/exploreAlaska/healy/alaska_travel_healy.htm
SPRING CONFERENCE
April 26-28, 2018
Hosted by Tri-Valley School in Healy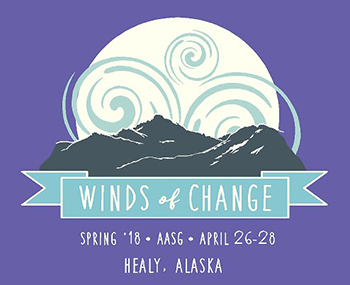 *Executive Board (E-Board) members and advisors must arrive a day early for conference.
FRIENDSHIPS
AASG offers many opportunities to make friends and learn from each other. AASG has set up a Facebook Page, has the Beamer Wall at conferences, and builds in lots of time for students to share, from all over Alaska. Delegates have a great time sharing at the AASG Conference.
AASG HONORED
AASG HONORED FOR SUICIDE PREVENTION CAMPAIGN
The Alaska Association of Student Governments (AASG) has been named the 2011 winner of the Ardis Kyker State Service Project Award by the National Association of Student Councils (NASC). The award is presented annually by NASC and recognizes a NASC-affiliated state student council association for its organizing and sponsoring of a statewide service project that engages its membership in support of a common charity or cause.
View the entire press release:
AASG Honored for Suicide Prevention Campaign