Spring Conference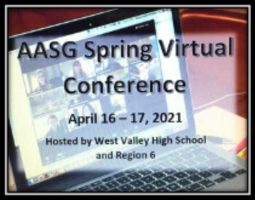 AASG's first ever virtual Spring Conference will be held April 16 and 17, 2021. The on-line conference will be hosted by West Valley High School in Fairbanks. The theme for this conference is "Golden Heart Leadership." An executive board Zoom meeting will be held prior to the conference on April 15.
Registration for the conference is available here. (coming soon)
As this is a virtual conference there is no conference fee. Registration will be capped at 200 participants on a first-come, first-served basis. Each participant is expected to review AASG's On-Line Code of Conduct and must submit a signed Virtual Conference Media Release Form to their advisor.
Elections, recognition of out-going and in-coming board members, resolutions, spirit competitions and guest speakers will all be scheduled on-line.
AASG Elections
E-Board Elections
Applications are currently being accepted for the executive board positions that will be elected/selected during the Spring Conference: President, Vice-President, Parliamentarian, Public Relations Officer, Treasurer and Secretary. Interested candidates must submit a completed application packet prior to the conference. President, Vice-President and Public Relations candidates must also include a pre-recorded video campaign speech. Speeches are to be no more than 5-minutes in length.
Newly elected/selected Junior SBEED and ASAA Representatives will be introduced at the conference along with our recently elected Regional Representatives:
Region 1 Haley Sundown, Bethel Regional HS
Region 2 Emma Tomeo, Tr-Valley HS
Region 3 Neviya Reed, Homer HS
Region 4 Madelyn Brokaw, Eagle River HS
Region 5 Jowielle Corpuz, Juneau-Douglas HS
Region 6 Wilson Wade, North Pole HS
Our current "senior" regional representatives will remain on the board acting as mentors until the end of the Spring Conference.
Applications for all board positions are available here.
Descriptions for all board positions are available here.
SPRING CONFERENCE
The AASG 2021 Virtual Spring conference will be held April 16 and 17, 2021 hosted by West Valley High School and Region 6. The theme is "Golden Heart Leadership."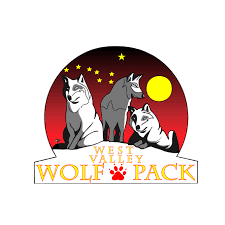 Latest News
AASG Past-President selected as Senate Intern for Senator Murkowski
Congratulations to AASG Past-President Kali Spencer, from Eagle River High School, for being selected as a summer intern in Senator Murkowski's Washington, DC office. The announcement was made in a press release issued by the senator's office.
FRIENDSHIPS
AASG offers many opportunities to make friends and learn from each other. AASG has the Beamer Wall at conferences, and builds in lots of time for students to share, from all over Alaska. Delegates have a great time sharing at the AASG Conference.