FALL CONFERENCE 2017 – REGISTRATION IS CLOSED!
Due to an incredible response to this year's Fall conference, we've reached maximum capacity therefore registration for the conference is now closed. Thank you everyone for your enthusiasm and support. We'll see you at Mat-Su Career and Technical High School.
The Alaska Association of Student Governments is excited to announce that Mat-Su Career and Technical High School in Wasilla has volunteered to host our AASG Fall 2017 Conference.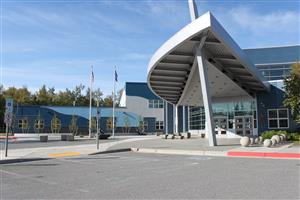 The conference will be held October 26-28, 2017 at the school.
IMPORTANT DATES
E-Board meeting starts at 4 pm on Wednesday, October 25.
Registration starts at 12:00 noon on Thursday, October 26.
Opening Ceremonies at 1:15 pm on Thursday, October 26.
Closing Ceremonies at 12:00 noon on Saturday, October 28. To-go lunches will be provided immediately after.
TO BE ANNOUNCED: Pre-conference workshops for early arrivals on Thursday morning. Watch this space for updates.
Airport transfers will be included.
Sleeping arrangements are being made at the high school for the boys and adjacent middle school for the girls. For those interested in booking hotel rooms, please see the flier below for special rates at the nearby Grandview Hotel. Mat-Su Career and Technical can accommodate a small number of delegates on Wednesday night, however advisers should be aware that if they stay they'll have to either leave the building in the morning OR stay in the space that they'll be sleeping in. Delegates will not be permitted further access to the school while classes are in session.
2017-18 Grandview School & Group Rates Flier
For more information please contact Barbara Jackson at the contact information listed below.
Mat-Su Career Tech hosted a very successful Fall conference in 2014 – "Operation Ascension." With a rich history of student leaders serving on the AASG executive board, and four current board members, Mat-Su Career Tech is expected to host a dynamic and richly rewarding conference.
We'll see you there!
Register for the Fall Conference » (CLOSED)
Early Bird Registration ($90) is open through Sunday, Sept. 24 at 11:59 pm.
Monday, Sept. 25, Regular Registration begins ($130)
Saturday, Oct. 14, Regular Registration ends at 11:59 pm.
Sunday, Oct. 15, Late Registration begins ($150)
Electronic Eligibility (for grades, etc.) is required by Oct. 19.
Substitutions after Oct. 20 require a $20 change fee.
No refunds will be issued for cancellations after Oct. 20.
Please contact Barbara Jackson at Mat-Su Career and Technical High School (barbara.jackson@matsuk12.us) with any questions about the conference.