AASG is now accepting applications to host our 2018 Fall Conference. More information and applications are available here.
The AASG 2017 Fall Conference was held October 26 through 28 at Mat-Su Technical and Career High School in Wasilla. The conference was one of the largest ever held by AASG and everyone agrees it was a huge success!
More than 500 students representing 47 schools statewide attended the conference, which included regional meetings, general assemblies and debates, along with many fun and exciting social activities. The fall conference theme was "Civic Duty," and it was certainly reflected in the active debates and the fourteen resolutions that were passed during the conference.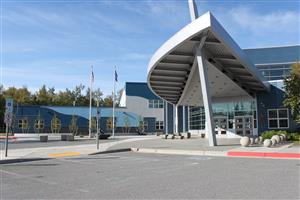 Elections for regional representatives were held during the conference's regional meetings. New AASG Executive Board members representing the six regions are Klajvis Pellumbi from Bethel Regional High School representing Region One (re-elected), Jacob Cook from Tri-Valley High School representing Region Two, Mattie Gross from Kodiak High School representing Region Three, Daniel Jeoun from South Anchorage High School representing Region Four, Anna Frazier from Thunder Mountain High School representing Region 5 and Sara Laughlin from Hutchinson High School representing Region 6. Regional representatives serve a one-year term. Congratulations and welcome to our new board members and their advisers.
Our Spring 2018 Conference will be hosted by Tri-Valley School in Healy, April 26-28, 2018. The theme of the conference will be "Winds of Change."
Applications are now being accepted for hosting the Fall 2018 and Spring 2019 conferences. Conferences are an exciting opportunity for both the students that attend and the schools that host them.
Past conference hosts Anthony Jensen (Wasilla High), Danielle Lewis (Eagle River High), Elizabeth Bender and Lindsey Glenn (Kodiak High), Barbara Jackson (Mat-Su Career Tech), and Mara Sheakley-Early (Thunder Mountain High) are available to lend support and guidance in your decision to become a conference host school. Host schools will also have the support of the AASG executive board. Our parent organization, the Alaska School Activities Association, has also agreed to forward-fund a portion of your conference, which will help with many of the up-front costs of the conference.
Please go to the conference page on our website for more information and the application forms to host an AASG statewide conference.